Atlanta DUI Lawyer
Military DUI Defense Attorney
by James L. Paisley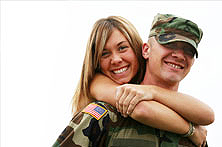 STOP! You only have 10 days to act.
By Georgia law, you only have 10 business days from the date of your arrest to save your license. Having a DUI lawyer can help protect your ability to drive even if the officer took your license when you were arrested. Call the DUI lawyer and have a free consultation on how we will protect your ability to drive. Please remember you only have 10 days from your arrest.
DUI Lawyer for Dobbins Air Force Base
If you or a family member serving in the military have been arrested for driving under the influence (DUI), it is critical that you speak with an experienced DUI defense attorney who has expertise in defending both civilian and military personnel against such charges.
In the military, the consequences that you or your loved one will have to face are much different than those faced by civilians charged with DUI. The procedures for charging an offender and then taking the case to court are different for a service member than a civilian. If you are on active or reserve duty status, you need to understand those vital differences.
A military DUI can mean serious consequences for your career. Your career will end prematurely if you receive a dishonorable discharge stemming from a drunk driving conviction whether it be on or off post. For a commissioned officer or non-commissioned officer, a DUI charge can severely limit your opportunity for continuing promotion through the ranks . It may even lead to a reduction in grade and removal from positions of command or those requiring sensitive or secret clearances – and become a permanent part of your service record. You could also experience one or more of the following:
• Financial penalties
• Confinement
• Loss of certain privileges such as driving on post
At the Atlanta DUI Lawyers, I greatly appreciate the sacrifices and stresses that our military personnel volunteer for in defense of our great nation. I also understand that those same sacrifices and stresses can sometimes lead to unfortunate circumstances such as a DUI. I am honored to offer my legal expertise to both active duty and retired military veterans to help you overcome a DUI charge so that it does tarnish your service record or end it prematurely. My job as your lawyer is to make sure you know your rights.
Call Now!
Contact the Atlanta Ticket Lawyers today by calling (404) 618 0960, emailing info@atlanta-ticket-lawyer.com, or by using this website's ATLANTA DUI LAWYER form.
…
Atlanta Ticket Lawyers
1718 Peachtree St. NW Suite 1080
Atlanta
,
GA
30309
Phone: (404) 618 0960