Atlanta, Dekalb, Marietta Traffic Lawyer
The Paisley Law Firm
by James L. Paisley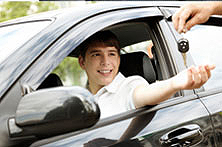 Georgia Traffic Defense Attorney
Young drivers, under age 21, are subject to severe penalties if they are convicted of a traffic offense. Prosecutors and judges tend to treat these cases harshly. If you or your child has been charged with a traffic violation, you will need a lawyer to fight for you.
My name is James Paisley. My firm protects the rights of young drivers in the Atlanta area. I understand that just one mistake can affect a person for many years. That is why I work to get charges reduced or dismissed. If you need help for a traffic offense, call me at (404) 618 0960 today. Your consultation is free.
The Penalties Are Serious
It is easier to have your driver's license suspended if you are under the age of 21. Georgia law allows judges to suspend your license for six months for a first conviction. If you are a driver under 21 and are convicted again, your license will be suspended for one year. You will not be allowed to receive a limited driving permit during the suspension.
There are many offenses that can lead to driver's license suspension, including:
• Speeding more than 24 miles per hour (mph) over the posted limit
• Driving under the influence (DUI)
• Purchasing or attempting to purchase alcohol
• Reckless or aggressive driving
• Hit and run
• Any other four-point driving offense
Contact Me Today
You do not have to plead guilty to the charges. We can fight the ticket and protect your license.
Call Now!
Contact the Atlanta Ticket Lawyers today by calling (404) 618 0960, emailing info@atlanta-ticket-lawyer.com, or by using this website's MARIETTA TRAFFIC LAWYER form.
…
Atlanta Ticket Lawyers
1718 Peachtree St. NW Suite 1080
Atlanta
,
GA
30309
Phone: (404) 618 0960