Atlanta Ticket Lawyer
Out of State Drivers Lawyer in Atlanta Georgia
by James L. Paisley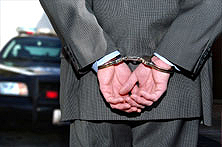 What if I don't live in Georgia, but they say I must appear?
Receiving a traffic ticket while out of state can be a major hassle. Many drivers don't bother with making a second trip away from home simply to wait at the courthouse so as not to miss any court dates, which can lead to a bench warrant and increased fines in many cases. James Paisley and his associates at Atlanta Ticket Lawyers specialize in handling court cases for those who live out of state so that a second trip is not necessary. Unless your ticket is handled properly, it will be reported back to your home state and points (or license suspension) will be accessed on your driver's license.
Many people think Georgia will not report out of state tickets back to their home state. This is wrong. If you just pay a ticket or don't bother going to court and ignore the ticket, Georgia will report this to the GA Department of Driver's Services, and they have the duty to alert your home state. Your home state is then obligated to suspend your license.
For the vast majority of cases, our lawyers can appear for you, so you do not have to appear. Our firm has represented people all over the world that are unable to attend Court. Our firm takes the pressure off you and facilitates the best resolution to your case possible. Ask us about our money back guarantee that we can make your ticket disappear and result in no points and no reporting to your insurance company.
Before handling an out of state case yourself, call Atlanta Ticket Lawyers and engage the experienced legal assistance you need to guarantee peace of mind and save yourself time and effort in this frustrating process.
Call Now!
Contact the Atlanta Ticket Lawyers today by calling (404) 618 0960, emailing info@atlanta-ticket-lawyer.com, or by using this website's ATLANTA TICKET LAWYER form.
…