Atlanta Traffic Lawyer
Atlanta Traffic Violations & Points System Attorney from $180
by James L. Paisley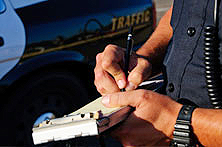 Traffic Ticket Defense From $180
Pulled over for speeding? Do not pay the ticket. Paying the fine is the equivalent of pleading guilty or being convicted. You can fight your speeding or traffic ticket and save money in the long term. I can show you how.
I am defense attorney James Paisley. During my career, I have learned that most people are unaware of their rights in traffic violation cases. They think paying the fine will fix everything, not realizing that the conviction will stay on their driving record and increase their auto insurance rates. I can help you fight your traffic violation. For a free consultation, please call (404) 618 0960 or send me an e-mail at info@atlanta-ticket-lawyer.com.
The Georgia Points System
In Georgia, all traffic violations are considered criminal offenses and misdemeanors. This is why you need a lawyer to protect your rights. Even a simple speeding ticket will add points to your driver's license and could cause your insurance rates to rise.
The Georgia Point System ranges from 2 to 6 points. A driver with 15 points in a 24 month period will be suspended.
Points are assessed for each conviction pursuant to O.C.G.A. §40-5-57(c)(1)(A)
Georgia assesses no points for speeding convictions 14 miles-per hour over the posted speed limit and for convictions of driving 'Too Fast for Conditions', as per O.C.G.A. §40-6-180. No points are assessed against non-residents of Georgia, however the conviction will be reported back to the driver's home state. That state will assess points according to their own guidelines for that offense.
OFFENSE CODE CONVICTION POINTS
§40-6-397 Aggressive Driving 6 Points
§40-6-390 Reckless Driving 4 Points
§40-6-163 Unlawful Passing School Bus 6 Points
§40-6-45 Improper Passing on Hill or Curve 4 Points
§40-6-181 Speeding:
15 to 18 mph over speed limit 2 Points
19 to 23 mph over speed limit 3 Points
24 to 33 mph over speed limit 4 Points
34 mph or more over speed limit 6 Points
§40-6-20 Failure to Obey Traffic-Control Device 3 Points
§40-6-2 Failure to Obey Police Officer 3 Points
§40-6-253 Possessing an Open Container of an Alcoholic Beverage while Driving 2 Points
§40-6-248.1 Failure to Adequately Secure Load (except fresh farm produce), resulting in an Accident 2 Points
§40-8-76 Violation of Child Safety Restraint
1st Offense 1 Point
2nd or Subsequent Offense 2 Points
§40-6-241.1 Violation of usage of wireless telecommunication device requirements 1 Point
§40-6-241.2 Operating a Vehicle while Text Messaging 1 Point
§40-6-54 Improper Use of Designated Travel Lane – 4th and Subsequent Offense 1 Point
All Other Moving Violations 3 Points
Points Reductions
Contact me first. Before you pay the ticket, call my Atlanta office at (404) 618 0960. I will challenge the evidence against you and strive for a dismissal or amended charge.
Call Now!
Contact the Atlanta Ticket Lawyers today by calling (404) 618 0960, emailing info@atlanta-ticket-lawyer.com, or by using this website's ATLANTA TRAFFIC LAWYER form.
…
Atlanta Ticket Lawyers
1718 Peachtree St. NW Suite 1080
Atlanta
,
GA
30309
Phone: (404) 618 0960