Atlanta Criminal Defense Attorney
Atlanta Traffic Lawyer
by James L. Paisley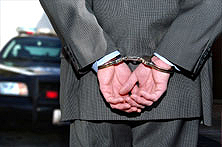 Georgia Criminal Defense Attorney
If you have been charged with a crime, you may be facing jail time, fines and other penalties. A conviction can change your life by limiting your job opportunities and affecting your relationship with your family. This is the time for an aggressive criminal defense lawyer who will fight for you.
I am attorney James Paisley. I began my career as a prosecutor, so I have a thorough understanding of criminal trials. Now I defend people accused of crimes, helping them put their lives back together. Please call my Atlanta office at (404) 618 0960 or email us at info@atlanta-ticket-lawyer.com today. Your consultation is free.
Drug Charges and Other Crimes
I defend people accused of drug crimes, including: possession and possession with intent to distribute, sale and delivery, trafficking and cultivation. Whether you are accused of crimes with street drugs or controlled substances such as prescription drugs, I can help.
If you are convicted of possession of any illegal drug, even marijuana, or any controlled substance, you are facing an additional driver's license suspension as well as the minimum drug penalties. For a first conviction, your driver's license will be suspended for six months. A second conviction will result in a one-year suspension.
Even if drugs were not found on you, you can be arrested for possession if you had control over the area where the drugs were located (glove compartment, under a seat), and they can prove you had knowledge the contraband was there (admissions, odor, proximity).
As an Atlanta Traffic Lawyer, I will examine your arrest and the search and seizure. If the police did not have proper cause for an arrest, we may be able to get the evidence suppressed. I will strive for reduced or dismissed charges. I want to protect your constitutional rights.
Additional crimes I handle include:
• Assault and battery
• Domestic violence
• Weapons charges
• Sex crimes
• Manslaughter, murder or homicide
• Theft
• Resisting arrest, obstruction or disorderly conduct
• Juvenile crimes
One of the most important aspects of criminal defense is reviewing the circumstances of the arrest. How did the police conduct the case? Is the evidence admissible? Were your constitutional rights violated? If so, I will argue to have the charges against you reduced or dismissed.
Call Now!
Contact the Atlanta Ticket Lawyers today by calling (404) 618 0960, emailing info@atlanta-ticket-lawyer.com, or by using this website's ATLANTA TRAFFIC LAWYER form.
…
Atlanta Ticket Lawyers
1718 Peachtree St. NW Suite 1080
Atlanta
,
GA
30309
Phone: (404) 618 0960